SHORT FICTION FILM COMPETITION – PART I
WEDNESDAY, 06.10.2021, 11:10, LOT CINEMA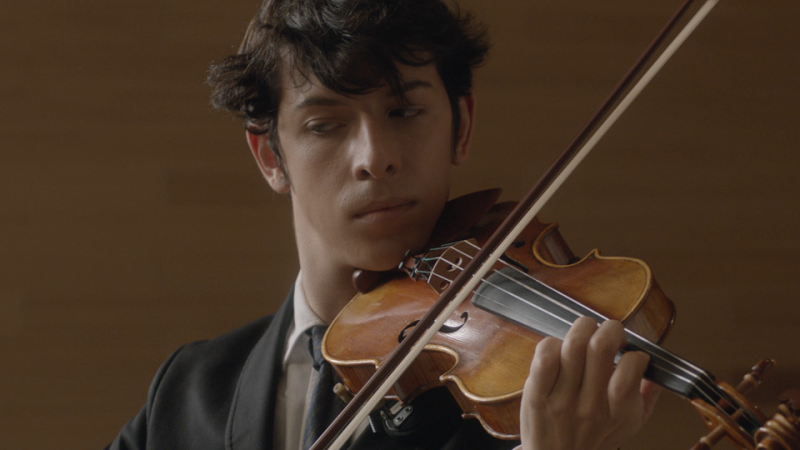 PRELUDE
Víctor is in his last year of Violin Studies and is about to perform his last recital. During his years as a student, he has put his family and friends aside to focus entirely on his true passion. Now that the first defining moment of his future professional career is approaching, he feels emotionally blocked, unable to play his piece well.
ESP, Preludi, 2020, 17:23, dir. Adrià Guxens, prod. Laura Egidos
AWARDS:
Festival de Cine Sant Joan d'Alacant – Best Student Film; Festival de Cinema de Cerdanya – Jury's Special Mention
MARIA
Maria lives for her son Bruno, who was interned in a mental health center. However, the day Bruno is discharged and comes back home, Maria's stability falters, bringing out a set of feelings she thought she had buried.
ESP, María, 2019, 17:19, dir. Paco Ruiz, prod. Gerard Rodriguez
AWARDS:
GOYA 2021 – CANDIDATE for Best Fiction Short Film; FICVI Festival Internacional de Curtmetratges de Vila-Seca – Best National Short Film; Festival de cine Sant Joan d'Alacant – Best Performance; FICP Festival Internacional de Cine de Ponferrada – Best Female Actor; Festival Internacional Cine de Cartagena – Best Cinematography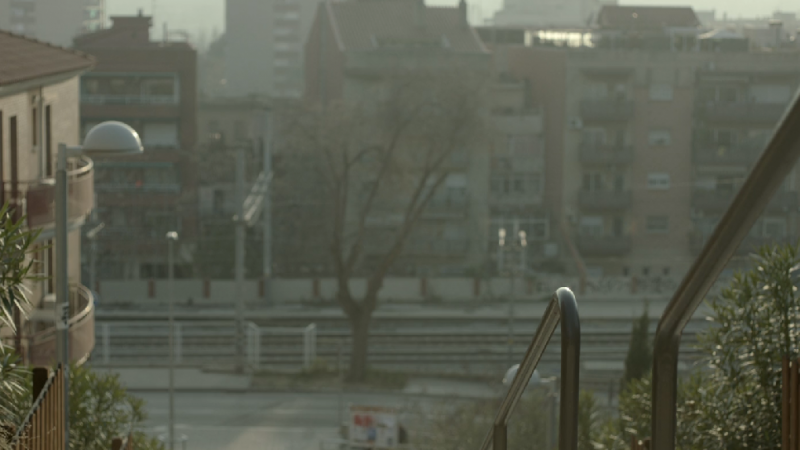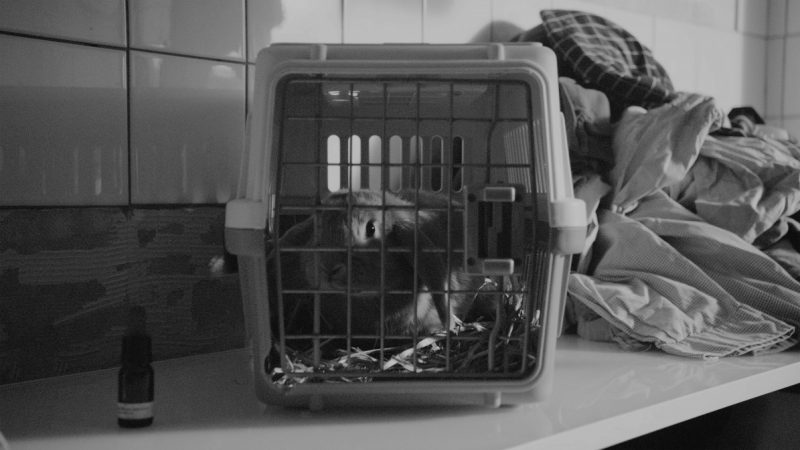 LOST RABBIT
Depressed since the death of his wife, Jef no longer goes out. Then, one weekend, his goddaughter, Lili, entrusts him with her little rabbit, Jacques. But when Jacques disappears, who would have imagined that Jef' life would get yet more complicated?
BEL, Lapin Perdu, 2020, 22:00, dir. Bertrand Lissoir, prod. Laurent Denis
AWARDS:
Kraljevski Filmski Festival – Youth Award Best Film; Shorts of the Year – Spring – Special Jury Mention; Festival du Film court de Saint-pierre – Prix des Saint-Pierrois; Free Film Festival Pro – Best Fiction ; Fiction Film Festival Barcelona & Resistencia – Special Mention
THE NIGHT EXPRESS
On New Year's Eve, journalist Tanya is in a train compartment with her friend. The friend fibs to other passengers that Tanya is a surgeon who's doing an important surgery tomorrow. A drunken lawyer, Tolya, sits down in the same compartment. When the train suddenly stops, a suitcase comes down and cuts off Tolya's finger. Now Tanya as a "surgeon" must save Tolya's life.
UKR, Nichnyi Svydkyi, 2019, 26:50, dir. Maryna Artemenko, Oksana Artemenko, prod. Svitlana Solovyova, Mykola Korotkiy, Oksana Artemenko, Maryna Artemenko
AWARDS:
BRUKIVKA International Film Festival – special mention; European Cinematography AWARDS – best European short film; Bharat International Film Festival – Winner "SPECIAL MENTION CATEGORY"; Wallachia International Film Festival – Jury award; KINOLITOPYS | 17 KYIV INTERNATIONAL FILM FESTIVAL – Best actress; Prague International Monthly Film Festival – Best comedy short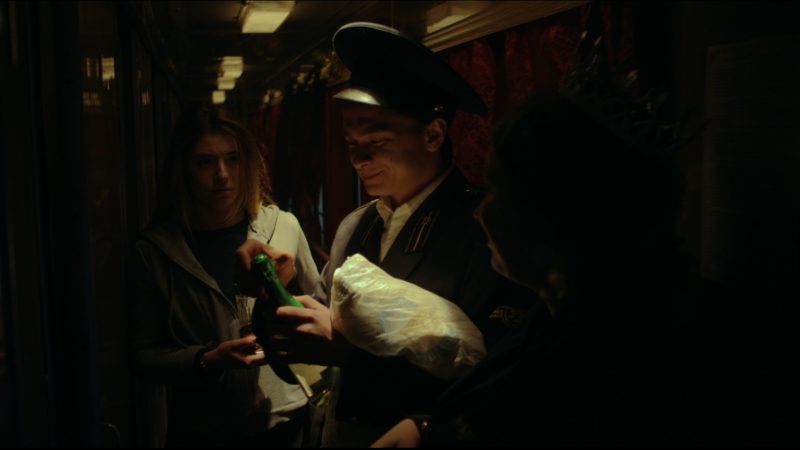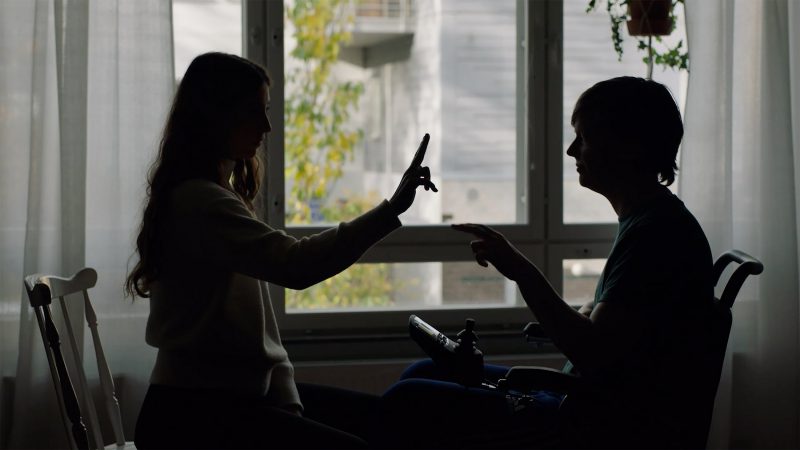 ALIVE
Victoria is in a wheelchair and Ida works as her assistant. When Victoria meets Ida's boyfriend, something happens to her: she also wants closeness and love. Ida helps her make a Tinder profile and soon afterward, Viktoria gets a match with Håkan. Ida becomes worried about how she will handle the situation, even more, when she sees how Håkan looks.
SWE, 2020, 23:27, dir. Jimmy Olsson, prod. Petter Selvehed
AWARDS:
Festimatge: Festival de la Imatge de Calella – Jury Prize Best Short Film; Festival de cine de Zaragoza – Best Short Film; HollyShorts Film Festival – Best International Short; Leuven International Short Film Festival – Audience Award; Kraljevski Filmski Festival – Best Editing – National Competition Huesca Film Festival – Best Short Film
MASHA
A Ukrainian working illegally in a Polish factory tries to help her friend Masha, who was injured in an accident.
PL, 2020. 12:33, dir. Krzysztof Chodorowski, prod. Maciej Ślesicki – Warszawska Szkoła Filmowa
AWARDS:
Ogólnopolskie Spotkania Filmowe "Kameralne Lato" – Nagroda Publiczności